Information on West Virginia's ORV Trail System
Note this product has been integrated into our Appalachia ORV GPS Map and is no longer available as a separate map. Updates to this and other trail systems continue throughout the year.
The information below should be considered out of date.
We want you to enjoy this recreational pursuit as much as we do. Over the years we've found that being well informed is the best approach to ensuring you have a safe, legal and most of all, fun time. Keeping on the trail and following the rules is the best way to ensure we all can continue to enjoy the great outdoors for years to come.
We strongly recommend you check with the Hatfield McCoy Trail Authority or the Burning Rock Store for current conditions before your trip. Checking in at each Ranger Station when you are at the trail is highly encouraged so you have the latest information available.
It's best to understand the rules, which include where you can ride, what equipment you need and more. Next find the trails that best fit your desired experience. A trail guide helps with that, which is listed below by trail. Each detail page has a map, description, photos and even riding video of that trail included. High quality PDF maps for each trails are linked as well, allowing you to download and print trail maps as needed.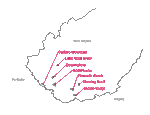 An overview map showing the trails will help plan your next trip.
This information complements our GPS Maps of Appalachia ORV Trails.
ORV Type

Map/Image/Video
RockHouse


(Formerly Browning Fork)

Buffalo Mountain
BearWallow
(Formerly Dingess Rum)
Indian Ridge
Little Coal River
Pinnacle Creek
Pocahontas
Ivy Branch
Burning Rock