Information on Mi-TRALE Trail System



Mi-TRALE
Map Pages: (all 7): SF, RC, PN, LL, F-G, ES, CR-G
Width: 72"
Length: 500
Traffic: Little
County Rds Open to ORVs: Yes
Forest Rds Open to ORVs: Yes
Updated 2/1/12
Note ground conditions and local club agreements have changed since publication in 2010, resulting in some of this information being out of date. Please pay special attention to the notes included with each segment for anything that is not part of the State's Designated System.
Michigan Trails and Recreation Alliance of the Land and Environment, Mi-TRALE, is a Club in the western UP of Michigan. They have designated several preferred routes and trails with their own naming convention. This naming convention consists of 1 to 3 letters, usually an abbreviation of the road or trail. The Bill Nichols ORV Route, for example, is named "BN" in Mi-TRALE's system. The Club offers a map locally that covers their entire system.
There are a bit over 200 miles of Preferred Routes and Local Trails and another 250 miles of State Designated ORV System. These routes and trails are marked with black letters on white backgrounds (note our experience has found the markings to be inconsistent). Example sign below.
About half of their system is comprised of alternate names for existing ORV Routes or ORV Trails that are part of Michigan's Designated ORV System. The remainder are a combination of forest and county roads, including use of private property in some areas. Some trails are designated as "preferred routes" meaning these are the suggested way Mi-TRALE recommends you travel between locations; others are "local trails" indicating suggested travel ways that generally use existing (marked) snowmobile trail.
Please note that several of the preferred routes terminate at a State or Federal Highway and ORV travel on these highways is illegal. For example the "PN" preferred route starts and ends at US-46; "C" stops at US-45 near Paulding, continuing on either side, but separated by 1/3 of a mile of this Federal Highway that is not open to ORVs. Additionally some of these local trails or preferred routes may be CLOSED or otherwise not open to public ORV Travel. Contact Mi-TRALE for current conditions.
A GPX file is available for download, providing approximate track logs for the preferred routes and local trails. It can be used in your GPS if it supports track logs or viewed on your computer in various programs, such as Google Earth or Garmin's MapSource. This information is based off of an Mi-TRALE published map and no accuracy or representation of legal travel is given.
Large overview map of the Mi-TRALE system also available.
Part of the State's Designated ORV System:
Specific to Mi-TRALE:
| | | | |
| --- | --- | --- | --- |
| | | | Map Page(s) |
| | County Roads from US-45 to just north of Bass Lake. (Bass Lake Rd - Old US-45). Has been renamed to the LL Trail. | | |
| | Rockland/Greenland/Mass City connector. Uses county and forest roads. (Depot Ridge, Caledonia and part of Snowmobile Trail 13) | | |
| | County Roads from CR to Bergland - Sidnaw ORV Route. (Choate Rd) | | |
| | County Roads from county line to Paulding to Bergland-Sidnaw ORV Route just west of Trout Creek. (County Line Lake - Two Mile - Sleepy Hollow - short gap of US-45 that's not open to ORVs - Bond Falls - Calderwood - One Mile) | | |
| | County and Forest Roads from White Pine to NR via PF | | |
| | County Roads from Bergland - Sidnaw ORV Route to Iron River ORV Route, along Lake Gogebic. Does not fully connect to Iron River ORV Route as portion of US-2 separates county roads, private property connector may be open connecting the segments, check with Mi-TRALE. | | |
| | County Roads from Ontonagon to Greenland (Firesteel Rd) | | |
| | County Roads from Trout Creek to Mass City (Gardner - Mud Creek - Red Shed - Branch - Depot Ridge) | | |
| | Snowmobile Trail 3 from Watersmeet south to Wisconsin border, Land O Lakes. Note: Connects to Vilas county which has no ORV trails/etc. in WI. Check with Mi-TRALE or Ottawa National Forest on current availability of this segment to ORVs. | | |
| | County Roads from Bergland - Sidnaw ORV Route at Matchwood to Ontonagon. (Norwich Rd) | | |
| | County and Forest Roads from Bergland to Rockland, using parts but not all of Snowmobile Trail 13. Also Known As the Pioneer Trail | | |
| | County and Forest Roads from E to NR (part of White Pine connector) | | |
| | County Road (Old M-64) unaccessible to ORVs since it terminates at M-64 a State highway, and has no other legal ORV egress. | | |
| | Ripley to Calumet, Snowmobile Trail 3 from Hancock to Lake Linden to Calumet) | | |
| | Snowmobile Trail 120, from Freda Grade ORV Route south/east to Bill Nichols ORV Route. Currently CLOSED to public ORV travel | | |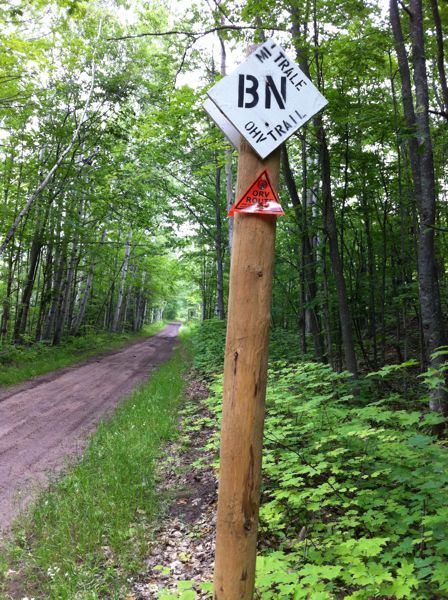 Information about this page
Information regarding ORV use in Michigan
Trail Guide at a glance
Big Picture of trail locations
Map Book Information
GPS Map Information

This work is licensed under a Creative Commons Attribution-Noncommercial-No Derivative Works 3.0 License